AIPNO 2020 President's Message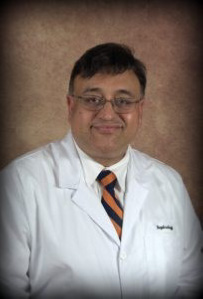 Dr. Rupesh Raina is an Adult-Pediatric Kidney Disease/Hypertension Nephrologist at Akron Children's Hospital, and Akron General Medical Center at Cleveland Clinic Foundation. He is a Associate Professor at Neomed Medical University and Case Western Reserve University, Cleveland, Ohio. He is Council member for Facility of Internal Medicine Council at Neomed. Dr. Raina is the Pediatric Education committee member for the International Society of Nephrology. He is Fellow of National Kidney Foundation and American Society of Nephrology. Additionally, Dr. Raina serves the National Kidney Foundation Advisory Board NKF, Ohio.. Dr. Raina practice includes care of patients with disorders of the kidney including chronic kidney disease, nephrotic syndrome, glomerulonephritis, tubular disorders, cystic kidney disease, kidney malformations, neonatal AKI, kidney stones and hypertension. He also and provides medical supervision of dialysis treatments, plasma exchange and kidney transplantation in adults and children. Dr. Raina's clinical research interest includes transition of adolescent with chronic renal diseases to adulthood care, renal replacement therapies in acute renal failure, bone marrow transplant and inherited metabolic diseases. Basic science research includes but not limited to identify non-invasive biomarkers (urine endothelin (ET-1) and others) to predict ADPKD disease progression.
MESSAGE
AIPNO is a nonprofit charitable organization founded in 1983 by visionary Indian physicians with the purpose of giving back to the society. This organization has grown due to the hard work of its leaders and dedicated members. AIPNO has more than 400 multi-specialty members geared toward enhancing the quality of health care by fostering excellence and professionalism in the practice of medicine and supporting efforts to improve the availability of health care in under-served population in local and international communities.
Every day, we are appreciative and proud of our AIPNO members hard work. They are a medical staff that embodies self-sacrifice and commitment, and has an unwavering dedication to improving the health and lives of our patients throughout our numerous and diverse communities. They embody our mission and are integral to our success
I am honored to serve as AIPNO president for the year of 2020. We are determined to take our mission ahead with the help of our dedicated members, especially who have come forward to server on executive committee, volunteers and generous donors.
Our mission is to enhance community involvement, bring awareness about different diseases and their prevention among masses. We will coordinate with local, national and international organizations through philanthropy, health care access and education. We will continue to organize health fairs and provide health education to enhance the quality of life.
We will also continue to organize CME programs, Research Show case and provide medical scholarship to medical students.
AIPNO encourages the participation medical residents, nurses, researchers, and high school students, like-minded donors and valued beneficiaries.
The future of AIPNO is brilliant. We are an organization of about 400 members. All of us some ideas to improve health care, to bring health care awareness in public, make health care cost effective, zeal to serve, and help the people who really need it. Please come forward ideas. We will work together to change it into a reality.
I request you all to Join the movement and come on the platform set by our predecessors by participating, sponsoring and contributing in any capacity for a noble cause and spread its vibrancy in the communities, we live in.
As Mother Teresa has well said Let us touch the dying, the poor, the lonely and the unwanted according to the graces we have received and let us not be ashamed or slow to do the humble work